Sunday, January 29, 2006
Jawbox
has tagged me and as such it is my duty to fill in the blanks and tag another 7 bloggers. So, here goes:
Seven things to do before I die:
1) Travel across Europe, by train, listening only to Kraftwerk's Trans-Europe Express.
2) Visit the Americana hotspots of the deep South.
3) Be at Goodison park as Everton put the 4th goal past Liverpool to win the Premiership.
4) See Bruce Springsteen and the E-Street Band live.
5) Form a band and play in front of more than 30 people. Ok, 25.
6) Watch TV with Caitlin Moran and Harry Hill.
7) Get out more!
Seven things I cannot do:
1) Read something and take it all in whilst watching television/listening to music.
2) Make a cup of tea in less than 4 minutes. It shouldn't be done any quicker.
3) Stand the implication that country music is all about Stetsons and line dancing.
4) Break dance.
5) Put up with shoddy sound quality.
6) Speed read (if only I could!).
7) Pole vault.
Seven things that attract me to…the countryside:
1) Notably cleaner air.
2) Wildlife.
3) Greater appreciation of the seasonal year.
4) Less traffic.
5) The fact that there is nothing to do after it gets dark.
6) The dark.
7) Pubs. Country pubs.
Seven things I say:
1) "Poxy"
2) "I tell you…"
3) "Strong, one sugar"
4) "Good stuff!"
5) "Or is it?"
6) "Gah!" / "Bah!" / "Pah!"
7) "He's got red hair but we don't care, Davey, Davey, Moyes"
Seven books that I love:
1) Flowers for Algernon.(Daniel Keyes)
2) Cash, the autobiography (Johnny Cash)
3) The Hitchhikers Guide to the Galaxy (Douglas Adams)
4) The Road To McCarthy (Pete McCarthy)
5) Things Snowball (Rich Hall)
6) McCarthy's Bar (Pete McCarthy) (What!? I like him!)
7) The Oxford English Dictionary
Seven movies that I've loved:
1) Lord of War
2) High Plains Drifter
3) ExistenZ
4) High Fidelity
5) The Wickerman
6) The Usual Suspects
7) This is Spinal Tap
Seven people to tag:
1) Blognor Regis
2) A Big Stick and a Small Carrot
3) Minor9th
4) Don't Not Nine
5) Paws Full of Devious Cretins
6) ?
7) ?
It's hard finding bloggers yet to have been tagged!
Tuesday, January 24, 2006
BBC Sport's
Quotes of the Week
section is often hit and miss, last week though, featured a wonderfully morose quote from 'Boro manager - Steve McClaren, following his side's 7-0 capitulation to Arsenal:

"Every defeat hurts. You might think it doesn't, but you ask my family, you ask the dog."
Perhaps someone should call the RSPCA...
In other news, this blog is the number one result on
Google
for:
are you tamworth in disguise song
.
Sunday, January 22, 2006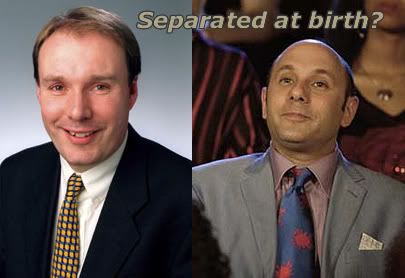 Lady Finchley points out
the striking similarity between recently resigned Lib Dem Home Affairs Spokesman - Mark Oaten and actor Willie Garson who plays
Stanford Blatch in Sex and the City
.
Stanford is the gay friend of Sarah Jessica Parker's leadrole.
Saturday, January 21, 2006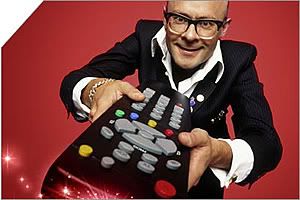 Harry Hill's
brilliant
TV Burp
returned to our screens today. The first episode of a series of ten, screened at 5.15pm on ITV1.
Harry takes a sideways look at television programmes from the week just passed, specialising in the likes of Holby City, Holiday Showdown and the Bill. His observational comedy and inclusive humour is perfect for the pre-watershed audience and a welcome addition to the otherwise dreary Saturday night schedule.
The 23 minute duration of TV Burp is easily the most laughter-packed of the televisual week and the clips format ensures that the jokes remain funny for those that didn't see the original programme - giving the show and element of timelessness.
Hill himself, remains a divisive comedian and this will no doubt put some people off, for me though, it's a perfect way to spend the early Saturday evening and a very welcome return.
Thursday, January 19, 2006
Guido
(some might say cynically) makes the suggestion that the Leo Blair kidnap story
coming out
during a particularly bad week (pervy teachers, peers throwing out ID card legislation and Kinnock's education reform doubts) might have been more than coincidence. Of course, being a "matter of security", the government are unable to disclose any further details.
Tuesday, January 17, 2006
Matthew Elliott and Lee Rotherham
, have written a (bumper) book soon to be published by
the Taxpayers' Alliance
. The book contains a "myriad of examples of Government waste and useless spending". The picks of the bunch include: the £225,000 scheme advising the elderly on how to wear slippers, and the £40,000 the NHS spent (including "two £8,000 workshops, a £4,000 public meeting, two £1,600 meetings with children and three £600 in-depth interviews with mental patients") to establish that patients wished to be treated with honesty, respect and dignity. A startling revelation I'm sure you will agree.
Courtesy of Adam Smith.
Rullsenberg Rules
reports on a chant heard from the Burton Albion fans at the FA Cup match the Sunday before last (yes, I am very late with this). All being well they can use it again tomorrow. The chant?
"Are you Tamworth in disguise?"
Superb!
Thursday, January 12, 2006
Guido
reports that Lib Dem sensation Nick Clegg is taking soundings, no doubt prompted by fellow Orange Bookers Chris Huhne and Mark Oaten both deciding to stand. Clegg has surely also been encouraged by the highly favourable comments he received in
the Telegraph
and
the Times
yesterday. With
Campbell
put in his place by Blair at PMQ's yesterday ("Ming the Massacred" - as
the Times hilariously japed
), the field has been blown wide open.
It was generally thought that the younger Lib Dems would support Menzies Campbell as a uniting force for the leadership, knowing that he would be forced to stand down after the next general election on age grounds. This would vacate the seat for them to battle it out amongst themselves, however, this tactic is now not an option. With Chris Huhne today entering the contest, it has forced the hand of his fellow Orange Bookers and hence we may see Clegg stand. The battle originally planned for 2009 is happening now.
As if the election process wasn't confusing enough already - The Guardian point out today that a loophole in the Lib Dem rules means that there is nothing to stop MPs from signing up for more than one leader! This could ensure that in the nominations process, the Orange Book candidates don't block each other from standing by taking votes from the limited pool of right-wing MP's. With the election itself using preferential voting, it shouldn't split the OB vote and let Hughes in – worse luck for Cameron!
Moving away from the Lib Dems, the New Statesman has an interesting article about what it's calling "the Adrian Mole generation" of new politicians – Cameron, Clegg, Opik, Alexander, Miliband et al. Worth reading.
Tuesday, January 10, 2006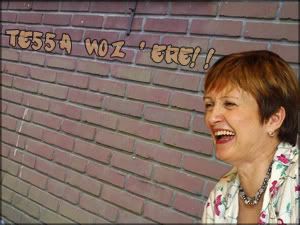 Tony Blair today
launched the latest plans in his respect agenda
. The picks of the bunch being a national parenting academy and 'possible' temporary evictions of troublesome families - including homeowners. Quite where these evicted families will be moved to and who will be paying for their accomodation, we can't be sure
More on this and the Lib Dem leadership contest later.
Saturday, January 07, 2006
Charles Kennedy will be making a statement at 3pm today. Lembit Öpik more or less confirmed that this will be to announce his resignation. Switch on the rolling news.
UPDATE:
Menzies Campbell will be making a statement following the Kennedy speech. Assumedly this is to confirm he will be taking the helm until a new leader is elected, I can't see it being to announce his intentions to stand, not yet anyhow.
Thursday, January 05, 2006
Charles Kennedy has this evening
admitted to having a drink problem and called a snap party leadership election
. This follows the news from earlier today that almost half of Kennedy's shadow cabinet had signed and circulated a letter expressing their concern in regard to his leadership. It could well emerge that Kennedy's public admission was forced, in that his alcohol problem was to be 'leaked' to the media by disaffected fellow Lib Dems.
It will be interesting to see who comes forward to stand against Kennedy. Mark Oaten had been touted as a potential leadership candidate but has already announced that he won't be standing and will in fact be actively supporting Kennedy. Simon Hughes will surely stand but will he be able to bridge the vastly differing factions within the party? It his hard to see the
Orange Book Liberals
getting behind Hughes. Menzies Campbell, current deputy leader would be better suited to uniting the party but he has so far remained relatively quiet. There is a strong possibility that one of the younger generation may stand, Nick Clegg would be the choice of many within the party, but inexperience would be a potential snag, although considering
the success that David Cameron has had
thus far, the Lib Dems could well be tempted to opt for a younger leader.
Interesting times ahead for the Liberal Democrats.
Wednesday, January 04, 2006
The Distractor
have selected the worst single release of 2005 as Shayne (with a trendy 'y') Ward's 'That's My Goal'. The X-Factor victor's rush job, number one in a box - just add 8m viewers for three months, huge media saturation and a twinkle of the eye, single was clearly just that. Not only was this song the worst single release of the year (at least the Crazy Frog wasn't masquerading as a genuine musical talent), it was also the most calculated. The Distractor give the "evil, despotic, shameful excuse for a human being" (Cowell) the critical kicking his shameful manipulation of both Ward and the public at large deserves in
this must read post
.
Let's hope the much hyped
internet based 'music revolution'
isn't just post-Libertines/Babyshambles/Arctic Monkeys media babble and is a genuine movement towards a fairer, more diverse music industry.
Tuesday, January 03, 2006
Well, I managed to make it through what
the Sun's Veronica Lorraine
has christened
'Gloomsday'
without topping myself. Sun readers voted today the most stressful on the calendar, sighting the return to work, post-Christmas financial concerns and the weather as the main reasons. The
Guardian Newsblog
also reports on a similar finding, this time the result of a scientific formula created by Cliff Arnall of the Cardiff University Centre for Lifelong Learning - whatever that is. Mr Arnall's formula takes in various factors which calculate that for 2006, January 23rd will be the most depressing of the year, although Mr Arnall's somewhat dubious credentials are brought in to question at the
Newsblog
, so don't go planning to gas yourself on the 23rd just yet.
Aside from all the bleakness, I had a wonderful Christmas and 21st birthday - even if the time off went far too quickly. I leave you with
this hilarious collection
of small ads collated by
Jonathon Horsman
, link courtesy of
Jawbox
.