Saturday, January 21, 2006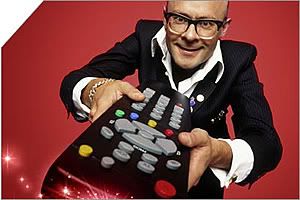 Harry Hill's
brilliant
TV Burp
returned to our screens today. The first episode of a series of ten, screened at 5.15pm on ITV1.
Harry takes a sideways look at television programmes from the week just passed, specialising in the likes of Holby City, Holiday Showdown and the Bill. His observational comedy and inclusive humour is perfect for the pre-watershed audience and a welcome addition to the otherwise dreary Saturday night schedule.
The 23 minute duration of TV Burp is easily the most laughter-packed of the televisual week and the clips format ensures that the jokes remain funny for those that didn't see the original programme - giving the show and element of timelessness.
Hill himself, remains a divisive comedian and this will no doubt put some people off, for me though, it's a perfect way to spend the early Saturday evening and a very welcome return.