Wednesday, May 31, 2006
So, Andy Johnson is now officially an Everton player, all for the princely sum of 8.6 million pounds. I'm delighted with the signing but must confess to having reservations about the fee.

I'll start with the positives. Johnson is the player we've been crying out for, he has pace in abundance and a good poacher's instinct. The highest finishing Everton teams under Moyes both featured a pacey striker (Radzinski for the magnificent 7th and then Marcus Bent for the fantastic 4th) but neither had anywhere near as good finishing ability as Johnson. The likes of Darren Bent and Bellamy showed last season just how effective pace can be with their impressive goal hauls. A hopeful long ball can turn in to a goal scoring opportunity just like that. With pace, you are always in with a chance, be it from an opposition mistake, a hopeful punt (and we do enough of that) or a sublime through ball (Lee Carsley had best get working on that). Johnson should compliment Beattie rather well, much the same as Beattie worked best in partnership with Kevin Phillips and Marian Pahars for Southampton.

The price though, I keep coming back to the price. In a realistic market, Johnson should have a value of no more than 6 million pounds, one successful Premiership season (albeit one where more than half of the goals scored were penalties - more on that to follow) and a couple of England caps in meaningless games shouldn't make for a huge transfer fee. That said, Peter Crouch - was he really worth the eight or so million sthat Liverpool paid? What about Ashton at 7.5 million pounds? It could be argued that both clubs paid over the odds there. In the case of Johnson, unlike Crouch and Ashton, where if my memory serves me correctly there was only the one club involved - Bolton, Wigan and Everton all offered 8.5 million for AJ. Surely then, that must be the going rate, whether it's a true reflection of value or not is irrelevant. There was no talk of the three clubs agreeing a ceiling price as was allegedly the case with Everton and Villa over James Beattie which again emphasises that all three clubs saw 8.5 million as a fair price.

What of the debate about his alleged diving and the number of penalties that contributed to the 21 Premiership goals he scored in 2004/2005? You can't strike them off his tally, rightly or wrongly, the history books will tell how 21 goals were scored by Johnson that season. I'm not going to claim that I've researched this extensively but I am pretty sure that at least two thirds of those penalties were won by Johnson himself, a player with his pace is always likely to be brought down in the area. This might be selective memory recall but I do remember thinking that most of his penalties were genuine at the time. An interesting question is who will take our penalty kicks next season (assuming we get some, ahem). Beattie is a confident and clinical taker, Arteta has taken them on occasions and now the addition of penalty specialist Johnson. One thing is for sure, we ought to be alright in a shooutout, or certainly better equipped than we were before.

Johnson is potentially the best signing we have made since Andrei Kanchelskis and we'll soon forget about the price when the goals start flying in. A Tony Cottee style debut hattrick wouldn't go amiss. Not only this, but I think we'll see a much improved James Beattie for having a regular partner upfront who has a bit of pace about him. It's often overlooked that Johnson's 21 goals came from him playing as a lone frontman, just think what he could in a 4-4-2! We now have in our side, two, one time 20+ goals a season strikers, that's pretty impressive, in fact, thinking about, we might be the only side in the league to have that. I'm not sure Rooney has scored 20 in the league and Van Nistelrooy is on the way out anyway. Chelsea don't, Henry doesn't have a partner with that record, although perhaps Bergkamp managed it at one point. Owen has never scored 20 league goals in a season so Newcastle aren't even close. Defoe and Keane? I don't think they have. No doubt if I'm wrong, it will be pointed out in the comments. For now though, I am happy that for once, Everton appear to be on the up and A Johnson is this time having a positive effect on the club.


Tuesday, May 30, 2006
Vernon Kay and Mikey is far too obvious, it just displays a lack of effort! Here are two more
creative
lookalikes...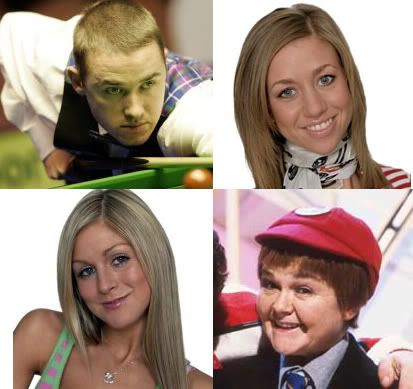 Other suggestions are very much welcomed in the comments section.
In a story surely beyond the imagination of Eastenders scriptwriters, a suited man from a legal firm broke in to Iain Dowie's Charlton unveiling press conference to present him with a writ from Simon Jordan - all live on Sky Sports News.
Trapped at work, I've been unable to see the footage but fortunately
All Quiet In The East Stand
is liveblogging the unfolding drama.
Jordan is understandably peeved at Dowie, having waived a million pound clause in his contract to allow him to leave the club - on the grounds that he was moving north to spend more time with his family. Well, he has moved north. About 15 miles north, to manage rivals Charlton Athletic!
Jordan might have a reputation as a bruiser and a bully but he only does what he feels is best for the club, his taking a stance on the issue of agents for example was and still is, hugely admirable.
What odds on Palace and Charlton meeting in the cup this year?
Saturday, May 27, 2006
The Rainbow Connection
has seen
my meme
and
raised me one
. Duty-bound to fill it, I've done just that:
I AM:
...
the most belligerent man you'll ever meet
. Nice.
I WANT:
... candy.
I HATE:
... intolerance, prejudice and melted cheese.
I MISS:
... erable frequently. I also cannot spell miserable or construct a sentence correctly.
I FEAR:
... irreparable mental disintegration.
I HEAR:
... the distant sound of traffic.
I WONDER:
... whether 8.5million pounds is far too much money for Andy Johnson.
I REGRET:
... letting something slip through my fingers when it might never happen again.
I AM NOT:
... just a National Insurance Number!
I DANCE:
... never and will endeavour to keep it that way for the good of all mankind.
I SING:
... like Steve Lamaq would.
I SEE:
... pixels, lots of them.
I CRY:
... rarely.
I AM NOT ALWAYS:
... this indecisive. Or am I?
I MAKE WITH MY HANDS:
... origami swans? I don't really understand the question...
I WRITE:
... quite scruffily and so try to stick to typing where possible.
I CONFUSE:
... David Starkey with Simon Schama.
I NEED:
... one sugar in my tea. I've tried without but find it undrinkable.
I SHOULD:
... drink more water.
I START:
... work too early.
I FINISH:
... work too late.
I won't tag anyone but if you want to do it then feel free. Go on, fill your boots.
Thursday, May 18, 2006
Already I'm fed up with whining Arsenal fans. The most grating statement being "the best team lost". No, the best team
didn't
lose, the best team won. How can Arsenal possibly be the best team? They struggled to finish fourth in the Premiership this year and had to rely on a mysterious stomach virus to achieve that on the last day of the season. Barcelona had already sewn up the La Liga title for the second year running and with three games to spare.
What about the match itself then? Gunners fans lament the referee but whilst I agree that he was by and large hopeless, biased he was not. The sending off of Jens Lehman was completely justified, it was a blatant foul denying a clear goal scoring opportunity, yet strangely, it is this decision that Arsenal fans are claiming "ruined the match". The options available to the referee were to let play continue and allow the ensuing goal then book Lehman or to stop play, send off Lehman and give Barcelona the free kick. Seeing as the whistle had been blown before the ball went in, the decision was already made. Of course, the other alternative would be to have allowed the goal and then gone back and sent him off, that wouldn't have been completely untoward either. I can't help but feel that there was some karma involved in the incident; Lehman has spent most of the season getting away with shoving over and swearing at opposition players who have the audacity to stand in his vicinity so it was fitting that he should be sent off in the biggest game of his career.
Following the sending off, Eboue 'tackled' a Barca player with his studs at stomach height, he was lucky to escape with a booking. Eboue was then a part of the 'forgotten moment' of the match when he dived outrageously to win the free kick that Sol Campbell consequently scored from. Wenger was, as usual, looking elsewhere for that instant.
Arsenal fans should look to their own ranks before blaming the referee (the Barcelona equalizer wasn't offside either), the opposition and UEFA. Lehman has enough experience to know you can't do that in topflight football and expect to get away with it, Henry missed two chances that he would have slotted in for fun against a midtable Premiership side and Wenger's tactics could be called in to question (why leave bringing on Reyes so late?).
Thankfully, the best team in Europe has actually won the Champions League for once rather than the fifth best team in England last season and so nearly this season as well. A victory for football.
Friday, May 12, 2006
I am not yet close to being reviled enough in the blogosphere and as such am going to commit one of the cardinal sins and start a meme. You heard me. I'm starting a meme.
The idea is this; you list 10 things that annoy you about your workplace/colleagues and then link to three people you wish to tag. Handy tip - probably best to only do this if your colleagues don't read your blog...
I'd better start then:
The 49 year old man who upon returning from lunch will re-greet everyone by saying "Yo!". Everyday! It's just wrong. He doesn't wear a baseball cap and Bermuda shorts but he really should with

that

in his vocabulary.


The guy who whistles constantly in such a way that he's not actually whistling at all - just exhaling really loudly.


An age-old one now, the guy who talks to himself, everything he does has to involve him speaking it out loud.


I washed my car on Sunday. It was parked at work for less than an hour before it was inconsiderately shat upon by what must have been a passing eagle. Not funny.


The girl who tells me about everything yet nothing. What she bought in the supermarket, how Heinz have brought out a new range of beans and how her car is going in for its MOT but she doesn't pay the labour charge because her cousin knows the mechanic... (I had this one three times; surely she must remember she had already told me? Or, maybe she tells so many people that she forgets who she has and hasn't told).


The guy who always answers the inevitable "get up to much at the weekend?" question with "I pottered about". What does that

mean

? And

every

weekend? I'm sure if he went away on safari for a year, he'd tell us upon his return that it was "alright" and he "just pottered around". Argh!


"At the end of the day", I've never been a great admirer of this phrase, especially when it's repeated often four or five times in the same two minute conversation by the same person featured in number six.


Another typical one now; the tea-point being left in a mess and the tea bag/milk/sugar supplies not being restocked by the person who used the last one. If you moan about this, people assume you are obsessive, which to be fair, might be accurate but THINK OF THE HYGIENE ISSUES. WON'T YOU PLEASE THINK OF THE HYGIENE ISSUES?!


See above, but replace tea bag/milk/sugar supplies with paper. People not restocking the printer tray, that really irks me as well.


The work.
The following people can consider themselves tagged (if you're unable to have a go then feel free to tag someone else):
Wednesday, May 10, 2006
Annie over at Slaminsky
has
psychologically analysed
my crazed scribbles and attempted to make sense of them. She's arrived at some startlingly accurate conclusions and made some astute observations. It's well worth reading, especially for the comments on the doodles submitted by
Mr Angry
.
Tuesday, May 09, 2006
In another music related post, I've been listening to the
Red House Painters
this morning - named after
Eastwood's
plan in the fantastic
High Plains Drifter
, or so rumour has it. I only have the two Painters' albums in
Down Colourful Hill
and
Songs For A Blue Guitar
, it's the former that I'll be jabbering on about for the next few minutes.
Red House Painters (I wont refer to them as RHP to avoid any horrific Red Hot Chilli Peppers mix-ups) play melancholic, enchanting, lumbering music with just the slightest touch of bittersweet happiness (you don't want
too
much joy, oh no). Muso's will call them an archetypal slowcore or sadcore band (think American Music Club, Low and Lambchop). They are fronted by singer and songwriter
Mark Kozelek
, a man with a reflective and introspective writing style; often featuring the topics of childhood and growing up. He has a voice to die for, his smooth tone and world-weary sound are testament to his tumultuous youth - addicted to heroin aged ten, allegedly and moved from home to home without love or stability.
Down Colourful Hill
was the debut album from the band and came out in 1992. Only six tracks but a running time of 43 minutes.
The following lyrics are from the third track and probably my favourite - Medicine Bottle, the song tells the story of an introvertive, borderline agoraphobic man who meets a girl and tries to let her in to his life. It's written from the perspective of the man and narrated as though Kozelek is indeed him, he probably was/is anyway.
It starts:
"Giving into love and sharing my time,
letting someone into my misery"
and ends:
"From my world in my bedroom,
It's all in his head, she read,
In a girlfriend's self-help book,
It's all 'cause he's making a war with himself,
Like two sides with a wall,
That separates two countries,
He shuts out the world he once knew,
To love you."


I think it's a fantastically well written song and Kozelek's voice is at it's heartbreaking best throughout the (almost) 10 minute duration. Be warned though, The Painters are certainly not to everyone's tastes and you may well find them depressing, boring and/or 'mopey'. But that would make you a heathen...
UPDATE:
I neglected to mention anything about
Sun Kil Moon
, the latest venture undertaken by Kozelek, alongside Tim Mooney of American Music Club, Geoff Stanfield and Anthony Koutsos. Their one major release - Ghosts of the Great Highway came out in 2003 and was largely thought to be Kozelek's masterpiece, slightly more upbeat than his Red House Painters work, though hardly to Good Vibrations proportions (surely the most uplifting song of all time?). Sun Kil Moon take their name from a Korean boxer and the band play a number of tracks named after pugilists - Salvador Sanchez and Pancho Villa, their songs also contain references to the sport. The opening track from the album, Glenn Tipton (yes, after the Judas Priest guitarist) begins: "Cassius Clay got hit more than Sonny Liston, some like KK Downing some prefer Glenn Tipton". The album's standout track though, and the one that first introduced me to Kozelek (via an Uncut compilation) is Carry Me Ohio, for me, one of the best songs ever written. Don't take my word for it though.
Download it here
.
Friday, May 05, 2006
Date:
Tuesday 2nd May 2006
Venue:
Concorde2, Brighton
Acts:
Amusement Parks On Fire, Scarling, This Et Al.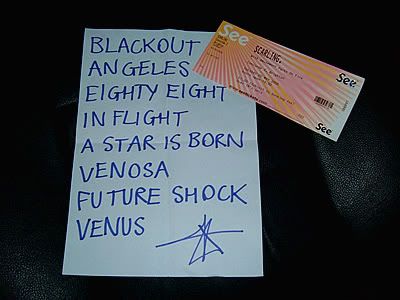 It was a marvel that I even made it to this concert in the first place, after crashing my car over Easter and not getting it back until the day of the gig itself. Still, everything fell in to place rather fortunately and I made it to the venue in one piece,
although
my car had taken on what I am referring to as Blair Syndrome - it has a problem with the left and consequently tends to veer rightwards.
The night was billed as a double headliner with both
Scarling
and
Amusement Parks On Fire
taking combined credit. The support band, were a four-piece from Leeds
called
This Et Al
. A bizarre looking outfit, the singer closely resembling the one from
The Mighty Boosh
who wasn't in
Nathan Barley
and the bassist looking like
Bjorn from ABBA
in full
Interpol regalia
(black shirt - check, red tie - check). They played a strange brand of what I can only describe as
thrash-shoegaze
, one track -
The Loveliest Alarm (click for DOWNLOAD)
, the second in a 25 minute set,
was outstanding and they had moments of brilliance but it was always going to be downhill from the highs of that track. The lead guitarist didn't appear to be using many (if any) effects pedals yet was getting some enormous sounding atmospherics from his playing, as a guitar player myself, I am always engrossed in watching the techniques on display at gigs. This Et Al play a good 30 minute set before setting off on their way.
Surveying the venue amid the equipment changeover, it became clear that Scarling attracted a certain sort of fan - teenage/early twenties female, dyed black hair, black stockings,
pink ra-ra skirts etc
... The whole pink and black gothic fairy look, a good look if you can pull it off. I'll be honest, a lot of them didn't...
It was while I was processing these thoughts that a stunning blonde fairy (oh no, she wasn't to be tied to any jet black hair colour conventions) came over to me and asked if I wanted to stand with her and her friend. It would have been rude not to. A good night gets better.
Anyway, back to the music. Scarling are next on, a dark five-piece from Los Angeles, 3 females and 2 males. They come on stage one at a time, starting with the lead guitarist, who unlike the guitarist from This Et Al, uses all manner of pedals and gadgets. He creates a gloomy backing drone whilst kneeling in front of his amp, on comes the drummer (female, you don't see too many female drummers, well, I don't anyway), followed by the bassist and rhythm guitarist (a tiny thing with as many tattoos as your typical Hells Angel), finally, on walks the singer, a buxom, raven haired woman. They launch in to the opening song with such ferocity that it emerges afterwards the singer chipped her tooth on the microphone! As I expected from their
Myspace page
and entourage, Scarling play brooding, gothic music, their guitarist had a shoegazing tendency though which made them sound like a darker Lush creatively driven by Tim Burton! The caterwauling City Noise was a real highlight for me, the lead guitarist creating an urban soundscape through endless effects and reverb whilst the singer's crystalline voice rose above the racket (much like Amy Lee of Evanescence, but you know, good). The 30 strong crowd for This Et Al has now grown to nearer 80 and most of them clearly came to see Scarling, they know the songs by heart. Scarling leave the set much the way they came on, the singer first, then the bassist, rhythm guitarist and drummer, leaving the lead guitarist to fiddle about with his box of tricks. He is one of the most inventive guitarists I've seen live, from his appearance; it seems he is older than his fellow band members - though not quite as drastically as
the precedent set by the Mystery Jets
.
A good 5 minutes of unmanned guitar feedback is brought to and end when the soundman comes on and switches off the amps, he's joined by a number of cohorts to assist in setting up the equipment for Amusement Parks On Fire.
My new friends leave at this point as does over half of the venue! It seems Scarling were the big attraction and the ra-ra skirt brigade don't much fancy the searing apocalyptic shoegaze of Amusement Parks On Fire. There are approximately 30 people left when the first band member comes on to setup his guitar. I use the reduced capacity opportunity to get to right to the front but can't help feeling sorry for the band, the first night of their tour and there are barely enough people there to have a full football match (including substitutes). Not only this but they appear to be encountering technical problems in setting up the equipment, the keyboard/synth/laptop guy is clearly not happy with things and is becoming visibly more irritated about it. The band all leave the stage and someone in the crowd shouts at them to "hurry the f#*k up" - this is always a worry for me, what if the band are offended and refuse to play? It wouldn't be the first time it's happened. Gladly though, this doesn't happen and within five minutes the full band are on stage and studying the setlist.
Quick bit of background information - I came to hear about the band from an online friend's recommendation - instantly taken by the sensational
Venus In Cancer (Click for DOWNLOAD)
, I checked out their website only to find they were playing in Brighton a week later. I thought it was too much of a coincidence to let it slip and snapped up a ticket. Anyway, back to the gig.
The tour is promoting the new album,
Out Of The Angeles
released on 5th June and as such the set is comprised of (the less ambling) songs from both the debut and this upcoming LP (3 from the debut and 5 new songs). They open with a ferocious version of 'blackout', the keyboard is barely audible above the guitars though and the band give the soundman expectant glances, the technical gremlins strike again. Singer (and songwriter) Michael Feerick
isn't fazed at all, your typical gangly frontman, he is an intense performer and sways about wildly, letting his guitar take control of his body. Two songs in and the sound levels are about right, not that you can pick out individual instruments anymore - just a wash of noise. The band segues from one song in to the next without pause, as any shoegazers worth their salt should. Speaking of shoegazing, there is precious little footwear observation going on, clearly that is one trait that Amusement Parks aren't adopting from the genre.
It's now nearing the end of the set and I'm becoming increasingly aware that Venus is yet to be played, I shouldn't have worried, that familiar overdriven intro rings out and once again the band are using three (count them, three) guitars to devastating effect. Venus In Cancer live is easily my best moment in music this year, right up there with a barnstorming 'Winner's Casino' by
Richmond Fontaine
in Winchester last year and with Nick Cave's amazing Red Right Hand in Hastings the year before. Fittingly, the glorious Venus is the set closer and already past the curfew of 11pm there is going to be no chance of an encore; I manage to nab a setlist from the bass player and set off on my way, carefully countering the right leaning tendencies of my once perfectly aligned steering rack.
Thursday, May 04, 2006
This is one of those awkward 'lack of post' posts where I make up excuses for my lack of activity and beg for your forgiveness. Except I wont, make excuses that is, I
will
however beg your forgiveness.
So, in life news, I've finally got my car back after an incident involving a hedge (on the opposite side of the road to me, - how
impressive
utterly stupid) and fortunately the damage to both car and wallet was minimal.
I've discovered and been to see
Amusement Parks On Fire
since the last post and there will be a review of that gig to follow here as soon as I finish writing it.
Politically, well, what hasn't happened?! The Clarke and Prescott stories rumble on without end, new examples of incompetence and seedy goings on have seen to that, yet we are
still
to see ministerial blood spilt... surely
one
of them should have gone by now? You begin to wonder just what a minister has to do in order to warrant a resignation - Eat a child? Maim a puppy? Flash the Pope? All no doubt will be appearing in the 2007 edition of
Dale
and
Fawkes'
Little Red Book of New Labour Sleaze...
Local elections tonight as well, I'm considering an all night live-blog to make amends for my period of inactivity but I know how awful I'll feel at work on Friday if I don't get at least five hours sleep. We'll see.