Sunday, August 27, 2006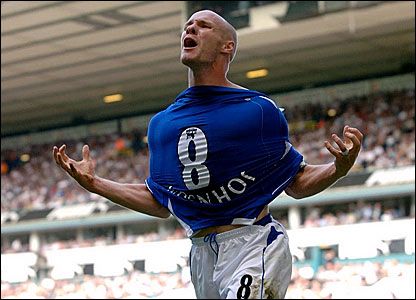 And so Everton traveled to White Hart Lane, a ground that we haven't won at in my lifetime - 21 long years. In fact, only two teams took 3 points from Spurs at the Lane last season, Manchester United and Chelsea. Everton fared particularly badly against Tottenham last year losing twice without scoring a single goal. The omens were bad and after 31 minutes they would get worse...
David Moyes changed the team around again and opted for a 4-5-1 formation that saw James Beattie relegated to the bench, Beats has been off the pace so far this season and with Johnson's prowess as a lone-striker it made sense. Not only this, our midfield thus far has proven rather lightweight and neither Carsley nor Cahill can cut it in a 4 man midfield, it also meant Arteta could come inside from the wing where his influence is diminished.
So, to the game, it started brightly with both teams enjoying equal possession and some fluid passing on display, Kilbane was booked to the amazement of just about everybody after a mere 15 minutes for a nothing challenge on Lee. It was inevitable then for Toffee fans when the same player would make a rash challenge on Lee (again!) after being done for pace - he was sent off in the 31st minute. The phrase 'uphill struggle' came immediately to mind, along with that one about creeks and paddles.
Spurs took the initiative and began to dominate the midfield whilst Davenport and Dawson ate up the long balls that the Everton defence persistently lofted towards the 5ft something Andy Johnson. A good corner from Spurs saw Gary Naysmith have to take evasive action - which for him meant smashing the ball against his own crossbar in a moment that would have rivalled Frank Sinclair in the classic own goal stakes. Fortunately Howard, Neville, Yobo, Carsley and Lescott (in for Stubbs) were more able in their duties. Carsley in particular was outstanding, his closing down was excellent.
When the halftime whistle went, Evertonians were simply glad to still be on level terms. I wrote the following on the fansite Bluekipper:
First half ratings:

Howard - 7 (Been solid, good positioning)
Naysmith - 4 (Woeful, letting the side down)
Lescott - 6 (Sturdy, made some key interventions)
Yobo - 6 (Went close with that header and made an immense bicycle kick clearance under pressure!)
Neville - 7 (Looking good, getting forward and solid in the tackle)
Kilbane - 5 (1st yellow was ridiculous, he was playing well but that 2nd booking was foolish)
Carsley - 8 (Man of the half, he's been clearing up like a white Makelele, distribution has been alright as well)
Cahill - 6 (Some good touches but needs to impose more)
Arteta - 6 (See above)
Osman - 6.5 (Playing well but being muscled out, played a nice passing move with AJ)
Johnson - 6.5 (Working the channels well but struggling a little on his own against the powerful Dawson and Davenport)

Overall we are playing well and passing the ball along the ground for once, we've been grossly unlucky with that red card but got off lightly when Naysmith nearly scored an outrageous own goal). More of the same would be good but I fear we will concede at some point and I can't see how we'd get back in to it. If we can nick a goal and ride our luck some more...who knows! 21 years of hurt...


The teams came out for the second half and within minutes Keane and Berbatov had combined to release Lennon but his shot was charged down by Naysmith. Everton then earned a freekick but Arteta could show none of his preseason form and blasted it over the bar to the sound of Spurs fan's jeers. The Spaniard got a chanced to redeem himself in the 55th minute after Johnson was brought down by Ekotto, a much better delivery was met by a towering Lescott, who headed the ball down on to Davenport's foot and the ball trickled in to put Everton ahead!
GET IN!
The goal seemed to inspire us and we became far more confident in possession. Spurs tried to counter this by taking off the ineffective Lee for Jermaine Defoe but the substitution only served to confuse the players as to what formation they were supposed to playing! Ekotto switched sides (to the left, not to Everton) and Jenas dropped back to rightback. Spurs persevered in having Keane take all the freekicks and corners, this seemed mightily strange as his presence in the goal area would surely have been of greater value - especially when you have the likes of Jenas and Davids who are good from dead-ball situations.
A chance for Spurs faded away as Osman steamed out of the area in possession, he was met on the centre circle by Edgar Davids but fended him off superbly and played a delightful ball to Neville on the right flank, Neville put in a perfect low cross and the lively Johnson forced his way between Dawson and Davenport to fire it home - the 99th goal of his career! 2-0 to Everton, this wasn't supposed to happen!
As the half continued, the Tottenham attack just never seemed to get going, in fact, when Everton were in possession Spurs defended incredibly deeply - seemingly unnerved by the lightning pace of Johnson. Everton had a few corners and Spurs had everyone bar Lennon back defending, when you're 2-0 down, at home and against 10 men, why would you do this?! I wasn't complaining at the time...
As if to emphasise his commitment to the cause, Lescott won a header against Davenport but in the process cut his head open, the wound was so deep he was forced off and replaced by the sprightly (ahem) Davey Weir. Carsley continued to mop things up impressively and Osman was having a blinder, at one point he ran back 60 yards to help out in defence, immediately stole the ball from a bemused Jenas and sprayed a magnificent 50 yard pass to Johnson to start another Everton attack. If Carsley was Makelele then Osman is surely our Deco.
David Moyes, whose tactics had been spot-on for the entire match went more positive and moved Cahill up in to a two pronged attack with AJ. Spurs brought on Zokora but despite some good touches he couldn't make anything happen. Tim Howard was forced into his first save - in the 91st minute, which said it all. The whistle went, the hoodoo was broken and Everton celebrated their finest performance for a long, long time.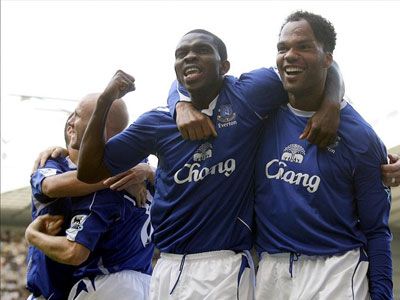 Tags: everton spurs premiership
Thursday, August 24, 2006
Would you believe it? Chelsea have a bogey team!
Middlesborough won this fixture 3-0 last season and they pulled off a remarkable result last night to claim another 3 points from the champions. After throwing away a two goal lead against Reading in the opening fixture, Gareth Southgate changed his team around and packed out the midfield leaving just Yakubu up front. It seemed to work, right from the kick off Boro were threatening, Boateng and Rochemback providing the steel in the centre to compliment the artistry of Mendieta and Downing out wide. Yakubu though, appeared to be having one of his off days and went on to spurn two glorious chances, both of which saw him in acres of space - Chelsea looked distinctly unorganised at the back, certainly much more vulnerable without Cech and Gallas. It was somewhat against the run of play therefore when Chelsea scored the opening goal, Shevchenko grabbing what will surely be the first of many in the Premiership - this was despite being played in the unfamiliar 'Robben role' (the flying Dutchman was injured in training). Shevchenko was by far Chelsea's best player on the night and looked a real class act. Man of the match though, was surely Downing, his deliveries caused Chelsea no end of problems all night and turned out to be their undoing in the end - both the Boro goals coming from devilish Downing deliveries, firstly a bullet header from the unmarked Pogatetz and the winner, a strike from the substitute Viduka. Chelsea didn't lose a match until November last season, maybe the title race isn't
quite
so clear-cut...
Title contenders Manchester United put in a more impressive performance against Dowie's beleaguered Charlton, with Scholes and Rooney beginning their suspensions - Ferguson moved Giggs in to a more forward role, playing just off Saha. Charlton started purposefully but a mistake by the decidedly
un
fortunate Jonathan Fortune allowed Fletcher to score. The goal seemed to open the floodgates and an explosive Manchester United took full advantage, Ronaldo hit the cross bar and Giggs had two good efforts saved. The way they were playing, the second goal was inevitable and eventually came via Louis Saha, you could have driven a bus through the Charlton defence at that moment, the marking was non-existent. The late arrival of Solsksjaer was greeted with rapturous applause from the fans and when he calmly slotted away his first goal in 3 years of injury ravaged hell they were ecstatic. Two wins out of two for United, 8 goals scored, and only 1 conceded, this looks ominous.
Martin O'Neil's inspiration of the formerly lacklustre Villa continued as they beat Reading 2-1 at Villa Park. Reading took the lead through a Kevin Doyle header but the game changed irretrievably when Sonko was very harshly sent off for a foul on Luke Moore, Angel converted the resulting penalty. 10 man Reading put up a brave fight but a header from newly appointed captain Gareth Barry gave Villa the 3 points.
Sam Allardyce was none to pleased with Abdoulaye Faye after his side's drab 1-1 draw with Fulham. Bolton had taken the lead through a Diouff penalty but Faye handballed in the box late on and Jimmy Bullard put away the spot-kick on his home debut. Big Sam said of Faye's intervention - "It was very unprofessional, very childish. There was no need to do what he did". I think we can be pretty certain that that wasn't the same version given to Faye himself!
David James' return to the City Ground ended 0-0. An even game saw Joey Barton impress and Pompey be denied a clear penalty after a blatant handball from Micah Richards. The match was overshadowed though by a truly horrific 'tackle' on Pedro Mendes from ex-Millwall thuggish leftback - Ben Thatcher. Thatcher ran at Mendes from some distance and slammed in to the Pompey midfielder, leading with his elbow. The challenge saw Mendes suffer a seizure on the pitch and require oxygen, he remained unconscious until he arrived at hospital and is said to be suffering from a fractured eyesocket, head swelling and concussion, he was kept in overnight. The referee who can't possibly have seen the incident (unless he considers a flying elbow only worthy of a booking), gave Thatcher a yellow card and as we've seen in past cases - because it was the refs decision that the tackle warranted only a booking, the decision cannot be changed later. Hopefully the FA will see sense on this one and take the necessary action, Thatcher should be fined substantially and banned for an absolute minimum of 20 matches, David Prutton the season before last, got a 10 match ban for pushing the referee.
More shockingly, it's not like Thatcher doesn't have form of this sort of behaviour, only a month ago during City's pre-season tour of China, he was sent off against Shanghai for two bookable offences, one of which put an opponent in hospital with a punctured lung. This also went unseen by the referee.
So as with the weekend matches, we saw some diabolical decisions from the referees and a clutch of penalties. The defeat of Chelsea has given hope to the other 19 Premiership teams that they can be beaten and a resurgent Manchester United once again emphasised that they are written off at your peril.
I'll review the Everton match individually, later today and then I need to check what Garth Crooks has been up to, no doubt he's busy slotting Ben Thatcher in to his Team of the Week.
Update:
re:Ben Thatcher. Greater Manchester Police have now confirmed they received complaints and are looking in to the incident. Let's hope they sentence him to a 5 year stretch for ABH.
Tags: premiership | football | ben thatcher
Monday, August 21, 2006
I'm taking issue with the much maligned
Garth Crooks' team of the week
and as it is only fair, I've produced my own team of the week as a comparison. See below: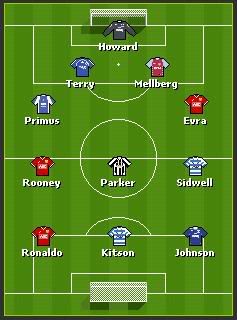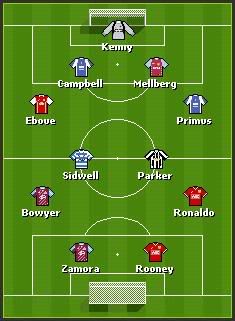 Garth Crooks' Team | Prolix's Team
Firstly, why is Garth playing the infamous 4-5-1 / 4-3-3 formation with Rooney in a central midfield role and Andy Johnson on the wing (Sven was roundly criticised for doing the same thing in a friendly)? Our other differing selections see me opting for Sheffield United's Paddy Kenny over Everton new boy Tim Howard (I felt Kenny had an impressive debut in the Premiership and made some great saves - especially so the free kick from Aurelio). Campbell ahead of John Terry, which is a negligible choice anyway and Eboue over Evra (I felt Eboue was Arsenal's stand out player against a resolute Aston Villa, he was fantastic going forward and covered a ridiculous amount of ground).
Up front I went with Bobby Zamora who scored a brace, ahead of Crook's bizarre selection of Dave Kitson who scored a scrappy goal and went off injured at half time! My final contrasting option was Lee Bowyer ahead of Andy Johnson, me being an Everton fan you might expect that decision to go the other way but I simply felt that Bowyer was outstanding for the Hammers, he assisted all three goals and hit the woodwork himself. Andy Johnson had a solid debut but his goal involved a deflection, besides, I couldn't fit him in to my 4-4-2!
I might make this a regular feature.
UPDATE
: Amazingly, I am the first person to tag a post with '
garth crooks
'. Astonishing!
Tags: football | premiership | garth crooks
Sunday, August 20, 2006
Further to
my recent post about the scheduling of Time Trumpet and Charlie Brooker's Screen Wipe
, I can report that my video recording of Time Trumpet is unwatcheable.
Excellent
. On a more positive note, Screen Wipe was fantastic and proved both humourous and informative, the highlight (though I'd seen it before) was the extract from R.Kelly's HipHopera -
viewable here
. You really couldn't make it up.
So, if anyone knows of a repeated showing of Time Trumpet or can provide a link to a torrent, I'd be mightily grateful - leave any pointers in the comments.
Tuesday, August 15, 2006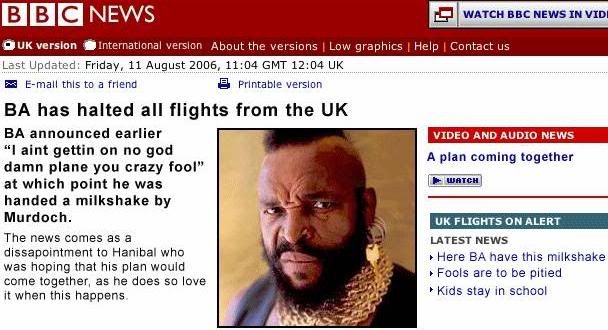 (Click for bigger)
Just had it emailed to me, better late than never I suppose. Credit obviously goes to the creator - whoever they may be.
Monday, August 14, 2006
The Man Whose Arms Exploded.
The Girl With The Voice of Boris Johnson.
The Man Who Was Just a Foot.
One of those, is a real television documentary which screened tonight on
Channel5
. The other two are satirical documentaries devised by Armando Iannucci for his new comedy -
Time Trumpet
.
Not easy is it? Answer
here
.
On a related note,
Doctorvee
and
Will Howells
have alerted fans of Time Trumpet to a scheduling blunder that sees it clash with the equally excellent
Charlie Brooker's Screen Wipe
at 10pm on Thursday. The BBC scheduling department (if such a thing exists) have made an error here as it appears that fans of one show are highly likely to be fans of the other, way to shoot yourselves in the foot guys... Although, coming from the people who scheduled
Messiah
- where a serial killer was brutally murdering people with the same forename as the 12 disciples (in ever more gruesome ways) - on
EASTER SUNDAY
, it's hardly surprising.
Tags: television | time trumpet | armando iannucci | channel5 | charlie brooker | messiah
Friday, August 11, 2006
I am still alive. Apologies for the lack of blogging of late. I've been suprisingly busy with a number of things - more on those at a later date.
I've had far too many late nights this week and it's all I can do to keep my eyes open this afternoon, Guinness for lunch was
probably
a mistake. It was free though, so what could I say? The reason for this - and this is 100% of truth - is that we were forced to change pubs last week after a German motorcycling convention selected it as their lunchtime destination.
The hot indie-girl barmaid served us and made everything seem well with the world. And with that comment this blog instantly reverts back to those heady days when I wrote an online diary at college.
Things will improve, I assure you.