Monday, August 21, 2006
I'm taking issue with the much maligned
Garth Crooks' team of the week
and as it is only fair, I've produced my own team of the week as a comparison. See below: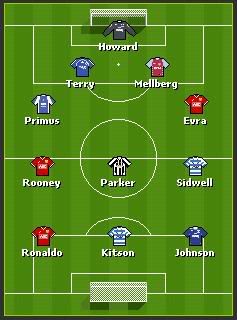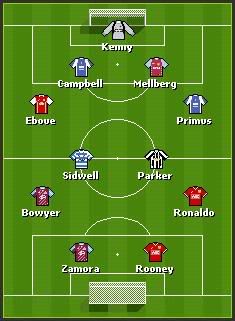 Garth Crooks' Team | Prolix's Team
Firstly, why is Garth playing the infamous 4-5-1 / 4-3-3 formation with Rooney in a central midfield role and Andy Johnson on the wing (Sven was roundly criticised for doing the same thing in a friendly)? Our other differing selections see me opting for Sheffield United's Paddy Kenny over Everton new boy Tim Howard (I felt Kenny had an impressive debut in the Premiership and made some great saves - especially so the free kick from Aurelio). Campbell ahead of John Terry, which is a negligible choice anyway and Eboue over Evra (I felt Eboue was Arsenal's stand out player against a resolute Aston Villa, he was fantastic going forward and covered a ridiculous amount of ground).
Up front I went with Bobby Zamora who scored a brace, ahead of Crook's bizarre selection of Dave Kitson who scored a scrappy goal and went off injured at half time! My final contrasting option was Lee Bowyer ahead of Andy Johnson, me being an Everton fan you might expect that decision to go the other way but I simply felt that Bowyer was outstanding for the Hammers, he assisted all three goals and hit the woodwork himself. Andy Johnson had a solid debut but his goal involved a deflection, besides, I couldn't fit him in to my 4-4-2!
I might make this a regular feature.
UPDATE
: Amazingly, I am the first person to tag a post with '
garth crooks
'. Astonishing!
Tags: football | premiership | garth crooks
Comments:
Ridiculing Garth Crooks? That has the potential to be a very regular feature indeed.
Thanks to Sky's ever-annoying scheduling, I only got to see the one game on Saturday, and only the goals yesterday, so won't try to come up with my own alternative. Suffice to say, I can't argue with the absence of any Spurs players in old-boy Garth's squad...
Post a Comment
Links to this post:
< Return to index