Wednesday, November 29, 2006
Some words that I will surely regret in about two hours:
It's more possible than I at first thought: Giggs and Vidic not in the squad, Scholes (who has been key this season) on the bench along with Saha who makes their formation work. If we can stifle Carrick - ought to be able to manage that with both Neville and Carsley in the middle, channel Ronaldo - up to you Nuno and tame Rooney - step forward Lescott. Then we can do these.

COYB!!

I'm already starting to lose my optimism, Wright is in between the sticks at a ground where we have a truly atrocious record...
We'll see.
Update:
ARGGHHHHHHH!
Tags: premiership | everton | manchester united
Saturday, November 18, 2006
Apologies for the lack of posts recently, and for those awful
team of the week
ones that you did get! Seriously, does anyone want that to continue? If so then say so now because I'll gladly stop otherwise!
This time though, I would like to think that I have a legitimate reason for the inactivity on my blog, that being - I've just started a new job. As of last Monday, I became a civil servant working specifically in performance and planning.
I had been at my previous place of work for over two years but despite
(mostly) getting on with everyone
, working close to home and an in idyllic office, the industry itself wasn't for me. A construction company is an excellent choice of employer - if you understand and find interesting the fine points of construction. I didn't and the inability therefore to progress to anything other than the role I was already employed in became reason enough to seek alternative work and what I hope will become a career rather than merely a job.
Anyway, my first week has been and gone with alarming rapidity. Dissimilar then from the journey to and from work which makes for a frustrating hour of clutch juggling and futile grousing.

Tags: employment | new job
Thursday, November 09, 2006
Show your blog is in support of the Kick Poll Out Of Football campaign by displaying with pride the following blog button:
Tags: graham poll | football | blog button
For reasons which should be clear
, I'm currently operating at a high level of fury over the performance last night, of that utterly inept referee Graham Poll.
I'm not the only one...
Technorati
search threw up.
I therefore propose that we adopt a strategy to rid the beautiful game of this most ugly of men, ladies and gentlemen, I give you: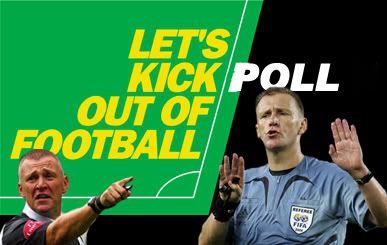 Tags: graham poll | refereeing | football
Monday, November 06, 2006
I took
this photo
last night as the sun was going down, such a strange pink colour to the sky. Using no flash really brought out the colours.
Tags: photography | sunset
Labels: photos
Mr Crooks
and his team of the week selection, followed by by own: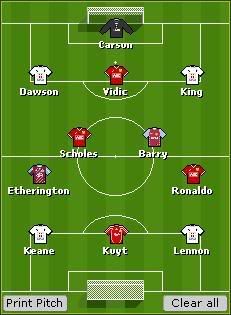 Garth Crooks' Team | Prolix's Team
Carson was the obvious choice in goal, he was the only reason Charlton got any points from their match with City, let alone all three!
I wasn't overly impressed with any performances from wingbacks or fullbacks this weekend (barring that of Micah Richards, but he wasn't an option...) so it was a flat back 3 for me - King, Dawson and Vidic all having good games. Garth agreed and selected two of those three, he accompanied them with the fairly average Chimbonda and Rosenoir.
Our midfields have a similar look about them which shows how it would have been unfair to leave out Scholes, Ronaldo or Lennon. I partnered those former two - in a four man midfield - with the once again dominant Barry and the tricky Etherington (whose work ethic against Arsenal was nothing short of outstanding). Garth performed his usual trick of picking someone (in this case Jensen) purely for scoring a goal, for me, Jensen offered precious little else in the match.
Up front, Kuyt's brace saw that neither me or the Crooks could justify leaving him out. Garth opted to pair the Dutchman with Louis Saha whilst I went with a front trio which also comprised of Spurs' Keane and Lennon, both of whom put in an admirable peformance against the champions and along with the sturdy centreback partnership, assured Tottenham their victory.
Tags: football | premiership | garth crooks