Monday, November 06, 2006
Mr Crooks
and his team of the week selection, followed by by own: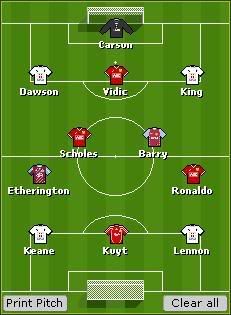 Garth Crooks' Team | Prolix's Team
Carson was the obvious choice in goal, he was the only reason Charlton got any points from their match with City, let alone all three!
I wasn't overly impressed with any performances from wingbacks or fullbacks this weekend (barring that of Micah Richards, but he wasn't an option...) so it was a flat back 3 for me - King, Dawson and Vidic all having good games. Garth agreed and selected two of those three, he accompanied them with the fairly average Chimbonda and Rosenoir.
Our midfields have a similar look about them which shows how it would have been unfair to leave out Scholes, Ronaldo or Lennon. I partnered those former two - in a four man midfield - with the once again dominant Barry and the tricky Etherington (whose work ethic against Arsenal was nothing short of outstanding). Garth performed his usual trick of picking someone (in this case Jensen) purely for scoring a goal, for me, Jensen offered precious little else in the match.
Up front, Kuyt's brace saw that neither me or the Crooks could justify leaving him out. Garth opted to pair the Dutchman with Louis Saha whilst I went with a front trio which also comprised of Spurs' Keane and Lennon, both of whom put in an admirable peformance against the champions and along with the sturdy centreback partnership, assured Tottenham their victory.
Tags: football | premiership | garth crooks