Monday, April 24, 2006
For there is no good.
Firstly then, the bad. Patricia Hewitt's frankly ridiculous suggestion that the NHS had seen its best year so far: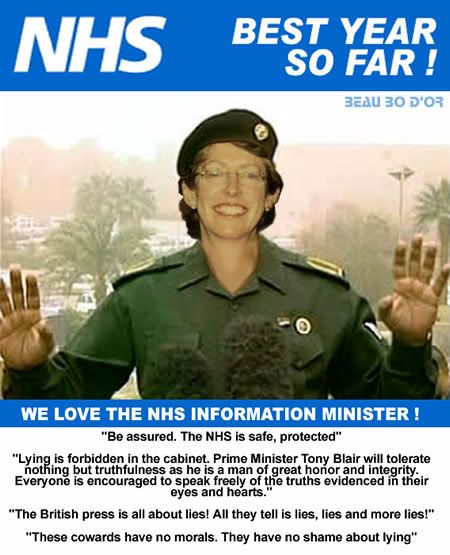 Wonderfully satirized by
the magnificent Beau Bo D'Or.
The ugly? Try this photo of a young Tone
unearthed by Backing Blair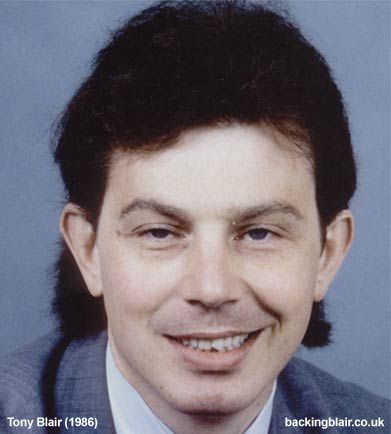 It's not
Chris Waddle
, honest.
Friday, April 21, 2006
Reports have come in to prolix that just outside the
Co-Op store in Cranbrook, Ken
t,
DEFRA's
rapid response unit has been called in to action. In a scene flawlessly displaying the organisation's competence and situation handling ability - prolix's man on the street describes how "four tiny red traffic cones form a small square with red and white hazard tape wound round them, in the middle of this makeshift fence lies a dead duck with it's little orange feet in the air."
There should be a picture on the way to confirm this.
How very reassuring...
UPDATE:
Picture now received.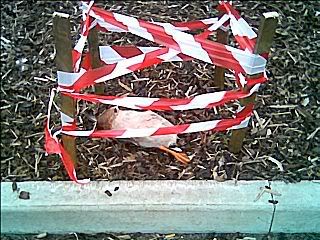 Monday, April 17, 2006
I have some issues with the PFA Player and Young Player of the year nominations. Firstly, let's have a look at the shortlists:
2006 PFA Player of the Year contenders:
Joe Cole (Chelsea), Steven Gerrard (Liverpool), Thierry Henry (Arsenal), Frank Lampard (Chelsea), Wayne Rooney (Manchester United), John Terry (Chelsea).
2006 PFA Young Player of the Year contenders:
Darren Bent (Charlton), Cesc Fabregas (Arsenal), Anton Ferdinand (West Ham), Aaron Lennon (Tottenham), Cristiano Ronaldo (Manchester United), Wayne Rooney (Manchester United).
You will note that with three exceptions, the twelve players listed represent the big four (Chelsea, Man Utd, Liverpool and Arsenal), that's 75% of the shortlist picked from four teams. Laughably, Rooney has been included in both categories; surely if he is good enough to be Player of the Year then he must be the Young Player of the Year also? Anyway, let's have a look at the nominations for last season:
2005 PFA Player of the Year contenders:
Petr Cech (Chelsea), Steven Gerrard (Liverpool), Thierry Henry (Arsenal), Andrew Johnson (Crystal Palace), Frank Lampard (Chelsea) and John Terry (Chelsea).
So we have Terry, Lampard, Gerrard and Henry again and we've switched Cech for Cole (both four letter names beginning with C, hmm). Sure these are good players but let's not kid ourselves that they've had exceptional seasons. Rooney didn't score once in any competition from December 29th until February 26th and his performances whilst sporadically brilliant or also still erratic. By their own standards, Henry, Gerrard, Terry and Lampard haven't had outstanding seasons and quite why Joe Cole has been included, I know not. His show pony tendencies have been cut down but he's far from a complete midfielder, I would argue that there are numerous players in Cole's position that have had better seasons - Malbranque and Gamst-Pedersen for example.
It seems that similar to the selection of the England team, the PFA Awards depend largely on what team you play for not how well you play for them.
I suppose after all that, I have to list an alternative selection. My choices then:
Shay Given (Newcastle)
Kolo Toure (Arsenal)
Kevin Nolan (Bolton)
Craig Bellamy (Blackburn)
Michael Carrick (Tottenham)
Claude Makelele (Chelsea)
Given has had another great season and for Newcastle to be top-half with Bramble and Boumsong in defence says a lot about his importance to the side. Arsenal have had many well documented problems with their defence this season but Toure has always been dependable no matter who he was paired with, Arsenal's record run of cleansheets in Europe is testament to his quality. Nolan has been a strong leader for Bolton and chipped in with 9 league goals from midfield. Bellamy has been in magnificent form for Blackburn and it's his goals that have fired them up the table and into contention for Europe. Carrick has been a key player in the Spurs team this year and has really come of age. Makelele is the heartbeat of the Chelsea team and he plays the most important role in the system employed by Mourinho, another fantastic season for Claude, the unsung hero of the Chelsea dominance.
Ach, just give it to Jonothan Stead, he's come good now hasn't he?
Saturday, April 15, 2006
Thursday, April 13, 2006
I've got a headache and a sore throat and I've quite possibly written off my car. Bloody marvellous.


Monday, April 10, 2006
BBC Sport's 'Quotes of the Week'
are particularly amusing this week, the picks of the bunch being:
"He didn't incite the crowd - we plan to report the 4,500 people who called him a fat b******."
Sheffield United boss Neil Warnock defends goalkeeper Paddy Kenny, who celebrated the Blades' winner against Hull by raising his arms to the opposition fans.

"We conceded two quick goals over there, and we're capable of doing the same at home."
Middlesbrough's Steve McClaren ahead of the Uefa Cup quarter-final second leg.
"And the score is nil-nil just as it was at the beginning of the game."
Mike Ingham about 10 mins from time, second leg Juventus v Arsenal.
"By the time you read this we'll have had a scan on Fabregas. His foot blew up after the game and that's not the best sign."
Arsene Wenger on Fabregas's 'explosive' foot.
"He had it on a plate, he had the sausage, bacon and eggs on it as well, but he couldn't take it."
Chris Kamara gets a bit excited summing up a missed chance during the Fulham - Portsmouth game.
Saturday, April 08, 2006
Wednesday, April 05, 2006
I started, so I might as well finish, my updates have come to a resolution tonight with the news that BBC bosses have had to face facts and
swing the axe in the direction of Davina McCall's chatshow
. The ratings have been frankly appalling and get worse every week.
File under 'FT' (for failed transfer) alongside Johnny Vaughan and Graham Norton. I wonder if that nice Mr Parkinson would come back?
To celebrate the 50th
(I know, it seems like a lot more)
post here, I bring you an exclusive preview of the new Green Day album. Having milked the 'anti-Bush'/'stupid America' market for all it's worth, the pop-punks have had to change their political stance somewhat.
Bush Was Right!
Of course, that's not
really
Green Day, it's
the Right Brothers
. Debate rages on as to whether this is a glorious parody or a genuine music video, all that we can be sure of is that
Steve Earle
is distinctly unimpressed.
NOTE:
If the video wont play, click on it to load it in a new window, there may be something up with the embed code...
Just click on the text link. YouTube is playing up.
Saturday, April 01, 2006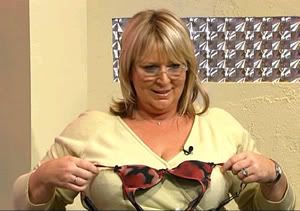 Fern is
not
impressed with Philip Schofield's idea of an April Fools joke.