Friday, April 21, 2006
Reports have come in to prolix that just outside the
Co-Op store in Cranbrook, Ken
t,
DEFRA's
rapid response unit has been called in to action. In a scene flawlessly displaying the organisation's competence and situation handling ability - prolix's man on the street describes how "four tiny red traffic cones form a small square with red and white hazard tape wound round them, in the middle of this makeshift fence lies a dead duck with it's little orange feet in the air."
There should be a picture on the way to confirm this.
How very reassuring...
UPDATE:
Picture now received.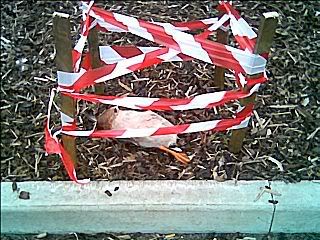 Comments:
The govts taskforce for lets give UK farmers Fuckall (CPA means - keep any dough thats going) and tell the papers that we should get rid of the CPA. Then a couple of days after Tony and his entrepreneurs have retired with massive pensions we will wake up to the economic principal!
Post a Comment
Links to this post:
< Return to index