Sunday, August 27, 2006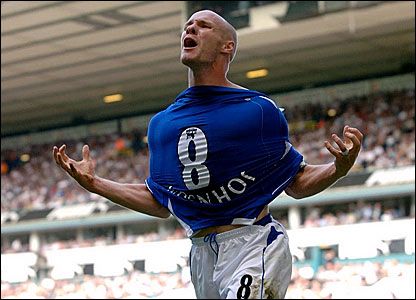 And so Everton traveled to White Hart Lane, a ground that we haven't won at in my lifetime - 21 long years. In fact, only two teams took 3 points from Spurs at the Lane last season, Manchester United and Chelsea. Everton fared particularly badly against Tottenham last year losing twice without scoring a single goal. The omens were bad and after 31 minutes they would get worse...
David Moyes changed the team around again and opted for a 4-5-1 formation that saw James Beattie relegated to the bench, Beats has been off the pace so far this season and with Johnson's prowess as a lone-striker it made sense. Not only this, our midfield thus far has proven rather lightweight and neither Carsley nor Cahill can cut it in a 4 man midfield, it also meant Arteta could come inside from the wing where his influence is diminished.
So, to the game, it started brightly with both teams enjoying equal possession and some fluid passing on display, Kilbane was booked to the amazement of just about everybody after a mere 15 minutes for a nothing challenge on Lee. It was inevitable then for Toffee fans when the same player would make a rash challenge on Lee (again!) after being done for pace - he was sent off in the 31st minute. The phrase 'uphill struggle' came immediately to mind, along with that one about creeks and paddles.
Spurs took the initiative and began to dominate the midfield whilst Davenport and Dawson ate up the long balls that the Everton defence persistently lofted towards the 5ft something Andy Johnson. A good corner from Spurs saw Gary Naysmith have to take evasive action - which for him meant smashing the ball against his own crossbar in a moment that would have rivalled Frank Sinclair in the classic own goal stakes. Fortunately Howard, Neville, Yobo, Carsley and Lescott (in for Stubbs) were more able in their duties. Carsley in particular was outstanding, his closing down was excellent.
When the halftime whistle went, Evertonians were simply glad to still be on level terms. I wrote the following on the fansite Bluekipper:
First half ratings:

Howard - 7 (Been solid, good positioning)
Naysmith - 4 (Woeful, letting the side down)
Lescott - 6 (Sturdy, made some key interventions)
Yobo - 6 (Went close with that header and made an immense bicycle kick clearance under pressure!)
Neville - 7 (Looking good, getting forward and solid in the tackle)
Kilbane - 5 (1st yellow was ridiculous, he was playing well but that 2nd booking was foolish)
Carsley - 8 (Man of the half, he's been clearing up like a white Makelele, distribution has been alright as well)
Cahill - 6 (Some good touches but needs to impose more)
Arteta - 6 (See above)
Osman - 6.5 (Playing well but being muscled out, played a nice passing move with AJ)
Johnson - 6.5 (Working the channels well but struggling a little on his own against the powerful Dawson and Davenport)

Overall we are playing well and passing the ball along the ground for once, we've been grossly unlucky with that red card but got off lightly when Naysmith nearly scored an outrageous own goal). More of the same would be good but I fear we will concede at some point and I can't see how we'd get back in to it. If we can nick a goal and ride our luck some more...who knows! 21 years of hurt...


The teams came out for the second half and within minutes Keane and Berbatov had combined to release Lennon but his shot was charged down by Naysmith. Everton then earned a freekick but Arteta could show none of his preseason form and blasted it over the bar to the sound of Spurs fan's jeers. The Spaniard got a chanced to redeem himself in the 55th minute after Johnson was brought down by Ekotto, a much better delivery was met by a towering Lescott, who headed the ball down on to Davenport's foot and the ball trickled in to put Everton ahead!
GET IN!
The goal seemed to inspire us and we became far more confident in possession. Spurs tried to counter this by taking off the ineffective Lee for Jermaine Defoe but the substitution only served to confuse the players as to what formation they were supposed to playing! Ekotto switched sides (to the left, not to Everton) and Jenas dropped back to rightback. Spurs persevered in having Keane take all the freekicks and corners, this seemed mightily strange as his presence in the goal area would surely have been of greater value - especially when you have the likes of Jenas and Davids who are good from dead-ball situations.
A chance for Spurs faded away as Osman steamed out of the area in possession, he was met on the centre circle by Edgar Davids but fended him off superbly and played a delightful ball to Neville on the right flank, Neville put in a perfect low cross and the lively Johnson forced his way between Dawson and Davenport to fire it home - the 99th goal of his career! 2-0 to Everton, this wasn't supposed to happen!
As the half continued, the Tottenham attack just never seemed to get going, in fact, when Everton were in possession Spurs defended incredibly deeply - seemingly unnerved by the lightning pace of Johnson. Everton had a few corners and Spurs had everyone bar Lennon back defending, when you're 2-0 down, at home and against 10 men, why would you do this?! I wasn't complaining at the time...
As if to emphasise his commitment to the cause, Lescott won a header against Davenport but in the process cut his head open, the wound was so deep he was forced off and replaced by the sprightly (ahem) Davey Weir. Carsley continued to mop things up impressively and Osman was having a blinder, at one point he ran back 60 yards to help out in defence, immediately stole the ball from a bemused Jenas and sprayed a magnificent 50 yard pass to Johnson to start another Everton attack. If Carsley was Makelele then Osman is surely our Deco.
David Moyes, whose tactics had been spot-on for the entire match went more positive and moved Cahill up in to a two pronged attack with AJ. Spurs brought on Zokora but despite some good touches he couldn't make anything happen. Tim Howard was forced into his first save - in the 91st minute, which said it all. The whistle went, the hoodoo was broken and Everton celebrated their finest performance for a long, long time.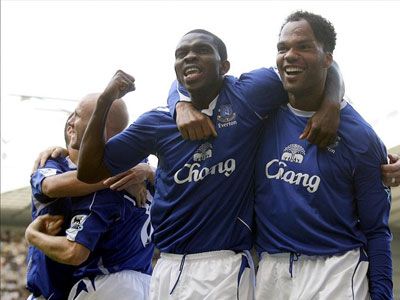 Tags: everton spurs premiership