Friday, May 05, 2006
Date:
Tuesday 2nd May 2006
Venue:
Concorde2, Brighton
Acts:
Amusement Parks On Fire, Scarling, This Et Al.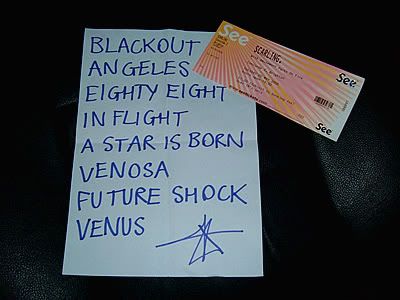 It was a marvel that I even made it to this concert in the first place, after crashing my car over Easter and not getting it back until the day of the gig itself. Still, everything fell in to place rather fortunately and I made it to the venue in one piece,
although
my car had taken on what I am referring to as Blair Syndrome - it has a problem with the left and consequently tends to veer rightwards.
The night was billed as a double headliner with both
Scarling
and
Amusement Parks On Fire
taking combined credit. The support band, were a four-piece from Leeds
called
This Et Al
. A bizarre looking outfit, the singer closely resembling the one from
The Mighty Boosh
who wasn't in
Nathan Barley
and the bassist looking like
Bjorn from ABBA
in full
Interpol regalia
(black shirt - check, red tie - check). They played a strange brand of what I can only describe as
thrash-shoegaze
, one track -
The Loveliest Alarm (click for DOWNLOAD)
, the second in a 25 minute set,
was outstanding and they had moments of brilliance but it was always going to be downhill from the highs of that track. The lead guitarist didn't appear to be using many (if any) effects pedals yet was getting some enormous sounding atmospherics from his playing, as a guitar player myself, I am always engrossed in watching the techniques on display at gigs. This Et Al play a good 30 minute set before setting off on their way.
Surveying the venue amid the equipment changeover, it became clear that Scarling attracted a certain sort of fan - teenage/early twenties female, dyed black hair, black stockings,
pink ra-ra skirts etc
... The whole pink and black gothic fairy look, a good look if you can pull it off. I'll be honest, a lot of them didn't...
It was while I was processing these thoughts that a stunning blonde fairy (oh no, she wasn't to be tied to any jet black hair colour conventions) came over to me and asked if I wanted to stand with her and her friend. It would have been rude not to. A good night gets better.
Anyway, back to the music. Scarling are next on, a dark five-piece from Los Angeles, 3 females and 2 males. They come on stage one at a time, starting with the lead guitarist, who unlike the guitarist from This Et Al, uses all manner of pedals and gadgets. He creates a gloomy backing drone whilst kneeling in front of his amp, on comes the drummer (female, you don't see too many female drummers, well, I don't anyway), followed by the bassist and rhythm guitarist (a tiny thing with as many tattoos as your typical Hells Angel), finally, on walks the singer, a buxom, raven haired woman. They launch in to the opening song with such ferocity that it emerges afterwards the singer chipped her tooth on the microphone! As I expected from their
Myspace page
and entourage, Scarling play brooding, gothic music, their guitarist had a shoegazing tendency though which made them sound like a darker Lush creatively driven by Tim Burton! The caterwauling City Noise was a real highlight for me, the lead guitarist creating an urban soundscape through endless effects and reverb whilst the singer's crystalline voice rose above the racket (much like Amy Lee of Evanescence, but you know, good). The 30 strong crowd for This Et Al has now grown to nearer 80 and most of them clearly came to see Scarling, they know the songs by heart. Scarling leave the set much the way they came on, the singer first, then the bassist, rhythm guitarist and drummer, leaving the lead guitarist to fiddle about with his box of tricks. He is one of the most inventive guitarists I've seen live, from his appearance; it seems he is older than his fellow band members - though not quite as drastically as
the precedent set by the Mystery Jets
.
A good 5 minutes of unmanned guitar feedback is brought to and end when the soundman comes on and switches off the amps, he's joined by a number of cohorts to assist in setting up the equipment for Amusement Parks On Fire.
My new friends leave at this point as does over half of the venue! It seems Scarling were the big attraction and the ra-ra skirt brigade don't much fancy the searing apocalyptic shoegaze of Amusement Parks On Fire. There are approximately 30 people left when the first band member comes on to setup his guitar. I use the reduced capacity opportunity to get to right to the front but can't help feeling sorry for the band, the first night of their tour and there are barely enough people there to have a full football match (including substitutes). Not only this but they appear to be encountering technical problems in setting up the equipment, the keyboard/synth/laptop guy is clearly not happy with things and is becoming visibly more irritated about it. The band all leave the stage and someone in the crowd shouts at them to "hurry the f#*k up" - this is always a worry for me, what if the band are offended and refuse to play? It wouldn't be the first time it's happened. Gladly though, this doesn't happen and within five minutes the full band are on stage and studying the setlist.
Quick bit of background information - I came to hear about the band from an online friend's recommendation - instantly taken by the sensational
Venus In Cancer (Click for DOWNLOAD)
, I checked out their website only to find they were playing in Brighton a week later. I thought it was too much of a coincidence to let it slip and snapped up a ticket. Anyway, back to the gig.
The tour is promoting the new album,
Out Of The Angeles
released on 5th June and as such the set is comprised of (the less ambling) songs from both the debut and this upcoming LP (3 from the debut and 5 new songs). They open with a ferocious version of 'blackout', the keyboard is barely audible above the guitars though and the band give the soundman expectant glances, the technical gremlins strike again. Singer (and songwriter) Michael Feerick
isn't fazed at all, your typical gangly frontman, he is an intense performer and sways about wildly, letting his guitar take control of his body. Two songs in and the sound levels are about right, not that you can pick out individual instruments anymore - just a wash of noise. The band segues from one song in to the next without pause, as any shoegazers worth their salt should. Speaking of shoegazing, there is precious little footwear observation going on, clearly that is one trait that Amusement Parks aren't adopting from the genre.
It's now nearing the end of the set and I'm becoming increasingly aware that Venus is yet to be played, I shouldn't have worried, that familiar overdriven intro rings out and once again the band are using three (count them, three) guitars to devastating effect. Venus In Cancer live is easily my best moment in music this year, right up there with a barnstorming 'Winner's Casino' by
Richmond Fontaine
in Winchester last year and with Nick Cave's amazing Red Right Hand in Hastings the year before. Fittingly, the glorious Venus is the set closer and already past the curfew of 11pm there is going to be no chance of an encore; I manage to nab a setlist from the bass player and set off on my way, carefully countering the right leaning tendencies of my once perfectly aligned steering rack.
Comments:
Hi Prolix, it's dandruff-boy from the c4 forums.
Jessicka Fodera (scarling singer) has been in music for 15 years so it's probably why they had a bigger audience. Scarling's 'so long scarecrow' album is very good, one of my faves of 2005. Good review! I'm looking forward to the gig more now.
Alex.
Post a Comment
Links to this post:
< Return to index