Thursday, September 14, 2006
As threatened -
"I might make this a regular feature"
- I've once again felt compelled to highlight the inadequacies of
Garth Crooks' Team of the Week
. Team selections as below: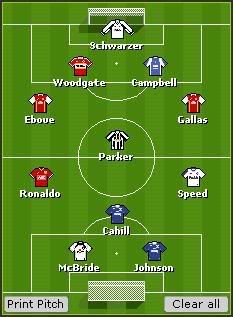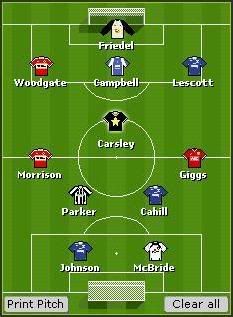 Garth Crooks' Team | Prolix's Team
So, Crooks' has gone with a 4-4-2 diamond formation where as I have opted for a 3-5-2. Tactically, Garth has improved on his efforts from last week, although frankly, it would have been quite some feat to make a selection any worse. His use of Parker as a defensive midfielder is questionable, I see Parker as more of a box to box player than a Makelele type. Football commentators seem unaware that Tim Cahill is often very ineffective in a 4-4-2 - hence his flourishing in the 4-5-1 system playing behind Johnson recently. As for the playing the aging and inappropriately named Gary Speed on the flank, well...
On an individual basis, I can see why he went with the Middlesborough keeper in goal but for me, Friedel's two penalty saves (amongst others of course) were more notable than a decent performance from Schwarzer against lucklustre Arsenal. We both opted for the impressive Campbell and Woodgate at the back but I added Lescott who was imperious and committed against Liverpool in his first Merseyside derby. Garth chose both Arsenal wingbacks, I found this slightly strange considering the iffy performance that the team put in.
Whilst both Crooks' and myself selected Parker and Cahill in the middle of the park, we differed wildly with the remaining players. I chose the revitalized Giggs ahead of Ronaldo out wide, Giggs sidestepped the player of the month curse and had yet another inspired game, even chipping in with a crafty headed goal. I played Carsley as the defensive midfielder in my formation, Lee wasn't even an option in the team of the week selections (hence his starred shirt), I find this astonishing - he effectively marshalled Xabi Alonso out of the game and had a hand in all three Everton goals. Our last difference of opinion saw me opt for young Morrison ahead of old Speed, not quite sure what Speed offered apart from his 94th minute penalty - Bolton were dire and one point would have flattered them, let alone all three. Morrison, on the other hand looked lively against Arsenal and took his chance well. We both chose to play Johnson and McBride as our two strikers.
See you next week.
Tags: football | premiership | garth crooks
Comments:
Agreed about Parker, he seems to have developed a defensive midfielder reputation mostly because that was what English football was sensed to be missing most, pre-the miraculous resurrection of Owen Hargreaves anyway... Always struck me a more bustling, busy but creative box-to-box midfielder, a superbly reassuring player to have in your side yet perhaps needs to increase his actual tally of goals and goal assists to look truly essential...
Bit of a cry-baby, though...!
Spot on, AKR. I seem to remember him scoring a lot of long range shots for Charlton but I could well be wrong there.
Post a Comment
Links to this post:
< Return to index