Thursday, September 28, 2006
Well, there was the one post in between. Straight to it then, here are the teams: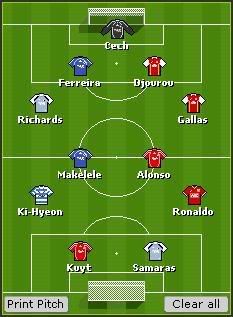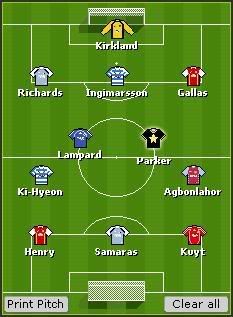 Garth Crooks' Team | Prolix's Team
A decent enough team this week from Garth Crooks
.
Let's start at the back; it's a good place to start. I selected Kirkland ahead of Cech in goal. The Chelsea keeper wasn't exactly overworked, though he certainly did all that was asked of him, Kirkland on the other hand was kept fairly busy by an unfortunate Watford (the same as every game, poor Hornets) and impressed once again.
Formation wise - Crooks has opted for two banks of four and two up top, I've mixed things up and gone with an extremely attacking 3-4-3 formation. We both selected Micah Richards and William Gallas at the back, which is testament to the quality of their weekend performances. Garth also chose Djourou and Ferreira in his defence where as I plumped for Reading's Ingimarsson. As with Cech in goal, I felt that Fulham and Sheffield United didn't provide much of a challenge for the duo who despite playing perfectly well, weren't ever really tested - hence the selection of Ingimarsson, who certainly was tested! The Reading man was a rock as United piled on the pressure in Saturday's game.
With the exception of Reading's Korean winger - Ki-Hyeon, Garth and my midfields are completely different. Whilst he chose Alonso and Makele in the middle of the park, I opted for Lampard and Parker. All four of these players had good weekends and frankly, there isn't much between them. Parker ran the show for Newcastle against Everton (though I think Garth's team only selects from the Saturday games) and Lampard's two goals again showed his uncanny ability to find the net. Out wide, I was fed up with choosing Ronaldo every week so opted for the fleet footed Gabriel Agbonlahor who has been a revelation for Martin O'Neil.
We both chose Kuyt and Samaras in our front lines but I also included the mercurial Henry who finally seems to be coming in to the form we all expect of him.
My formation admittedly looks distinctly unbalanced, the reasoning behind it being I couldn't decide between the three strikers and was struggling for four outstanding defensive performances. I think Agbonlahor has shown enough to be considered a winger of note rather than merely a quick striker whilst Parker and Lampard should be more than capable of running midfield together - though haven't we said that about Lampard and Gerrard?
Tags: football | premiership | garth crooks