Monday, July 10, 2006
After the World Cup must come the reviews of the coverage. ITV will surely be licking the wounds of their collective failure today, the ratings news being far from satisfying for them.
The BBC report
that during normal time, viewing figures for the match averaged 11.2 million on BBC1, contrasted with 2.4 million on ITV1. The penalty shoot-out saw the BBC's audience rise to a massive 17 million whilst only 3.5 million watched on ITV1. These figures show an 82% split in favour of the BBC during normal time, increasing to 83% during the shootout.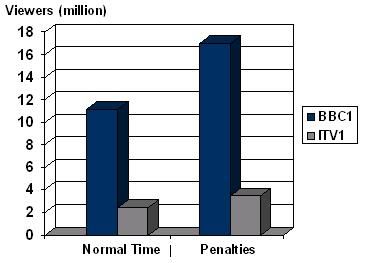 The surprising thing is that
anyone
should have chosen to watch ITV at all, with its adverts galore and truly awful punditry, not to mention the dreadful co-commentary from Gareth Southgate. This said, the BBC shouldn't feel too contented with the ratings which gloss over their own mediocre coverage. John Motson becomes more pointless with every game and the dry Lawrenson is no better with his often painfully unfunny quips. Notice how quickly Ian Wright disappeared once England had exited the competition, the former Arsenal man thought Saudi Arabia was in Africa and had a blatant inability to tell the difference between Roque Junior and Roque Santa Cruz despite them playing for completely different teams. The real star and saving grace was Leonardo, articulate, self-effacing and erudite, he was the perfect pundit and the BBC are quite right to try and sign him up for the fast approaching domestic season.
Tags: world cup | itv | bbc | television