Sunday, February 12, 2006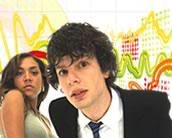 Yes, sadly it's true. Popworld as we know and love it
will cease to be
, come the end of April (
via doctorvee
). The show has been a favourite of mine for many a year now, with a complete disregard for 'celebrity' and a boisterous, incisive sense of humour, it's a hugely entertaining hour of Channel 4 morning television – how often have we heard that said? Amstell and Oliver
were
the programme and indeed wrote large sections of the material themselves, I fail to see how the show could continue without one of the duo of presenters, let alone both of them.
The Indy recently featured a write-up and mini-interview of the show.
Well worth reading.
Comments:
Miquita and Simon leave... Jon and Pete step in! This could be our chance, Pete... our chance to shine! Well, my chance to shine, and your chance to cash in.
We could even act out parts of our sitcom script, Pete!
Honestly, add this to your growing list of things to apply for.
Post a Comment
Links to this post:
< Return to index