Monday, February 06, 2006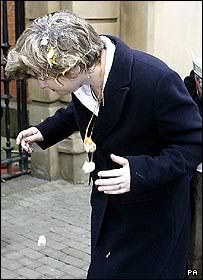 Apologies.
Thought I'd try and get in before everyone else does.
Credit to the
BBC
for the image.
Comments:
Well, I'm not sure I believe you. After all, you make a lot of "Company drops", don't you?
Don't you!
I shall be going back to Fulham tonight. So we've lost a few games on the bounce - I'm making a strong stuff. I can turn it around. Our pre-season form hinted at better things, and I'm keen to realise my ambitions with this under-achieving club. That's right! I will turn the corner, I will blood the youngsters, I will follow in the steps of pr0lix!
Either that or I'll uninstall it and say I didn't like the game anyway!
Post a Comment
Links to this post:
< Return to index