Friday, February 10, 2006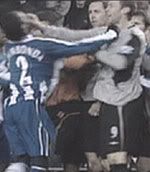 DISCLAIMER:
I feel I should make it known at this point that I am an Everton fan, please bear this in mind when reading my blog!
In addition to the suspension Ferguson has already begun serving - for the red card in the
match versus Wigan
, the FA have now
banned him for a further four games
. Their reasoning for this
is as follows
:
"Because referee Mike Dean had already decided to dismiss Ferguson before the Chimbonda incident, this matter fell outside the jurisdiction of the match officials but was reported to the FA."
"It is broken down into three matches for violent conduct, with a further match suspension in line with disciplinary rules which categorise the proven charge as effectively his second sending - off of the season."
What gets my goat, is not the ban itself - it was deserved of course; it's the gross inconsistency when it comes to these incidents. Will Reina receive an additional ban for
raising his hand to Robben
? Why on earth was Andy Cole's ban only for 6 games and then
REDUCED
after his sending off against WBA back in September 2004? He punched Neil Clement in the face and then abused a match official, unquestionably a more serious offence than the pictured incident above. Besides, the scuffle in which the
"
Chimbonda incident"
took place also saw Chimbonda raising his arm to Ferguson's face (see picture), Jason Roberts throwing a punch and Tim Cahill likewise. Surely they are all equally culpable of violent conduct and should be disciplined accordingly?
There needs to be a full - scale review of how these incidents are dealt with by the FA, the contradictory penalties are becoming ridiculous and the rulings are either exceedingly harsh or pathetically lenient.
Comments:
I suppose it's pretty inevitable that Ferguson will be treated somewhat harsher than others, given his disciplinary record. Something else is that some of the other cases you highlight only involved "punches" as far as the rulebook was concerned - in actuality they were more like slaps/pushes/shoves etc. Ferguson visably thumped someone in the stomach, something which, considering most brawls that happen in football, is surprisingly rare. Refereeing standards are shockingly bad, though.
Middlesbrough.
Middlesbrough
. God in heaven...
Post a Comment
Links to this post:
< Return to index