Sunday, February 19, 2006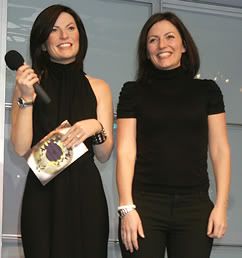 Davina McCall's BBC1 chat-show got off to
an awful start
this week and was beaten in the ratings by Channel4's Relocation, Relocation. Hardly the start the BBC bosses can have been hoping for.
I'm not sure
which of the Davinas'
(to the left of this) presented the show, that could be the problem. Parky can sleep easily for now...
Comments:
Apart from Big Brother, have any of her recent TV shows not flopped horrendously?
Can't see what's so interesting and engaging about her, to carry a show without such an iron horse of a concept as Big Brother...
I actually bothered to click on the image. Its a wax model. I genuinely thought she was real. Fudge.
But why is Davina standing there with a microphone and some questions? Does she want to interview the wax model?
How's everyones Monday?
Post a Comment
Links to this post:
< Return to index